DETAIL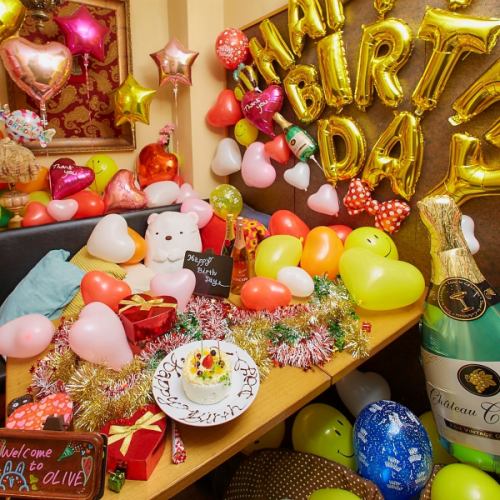 "Surprise Birthday course" Surprise in private room for 2 hours with all you drinks & Hall cake ♪ 【8 items 3980 yen】
8items

3

~

100persons

All-you-can-drink available

■ □ ■ FREE DRINK MENU ■ □ ■ Abundant lineup of over 150 types ♪
Up to 2 pairs per day! Prepare a special private room of birthday specification ♪ From the moment you enter HAPPY BIRTHDAY! How is your birthday surprise from the beginning ♪ ☆ 彡 your reservation as soon as possible
Menu
【1 item】 Cheers! Sparkling wine
【2 items】 Assorted 5 kinds of appetizers
【3 items】 Warm ball Caesar salad
【4 items】 Prawn shrimp and Broccoli ahijo
【5 items】 Trout cheese fondue
【6 items】 Aging pork
【7 items】 Chef's whimsical pasta
■ Cream source system
■ Tomato source system
■ Peperoncino series etc etc
【8 items】 ☆ Chef Special Hall cake ☆
※ We have put in free messages! If you would like please tell us at the time of booking
◎ course of your description ◎
· 3 people ~ available
· Up to 2 pairs per day (Depending on the reservation time, it will be a guide only for one pair.)
- Last order will be 30 minutes before.
· Fri, Sat, and celebration will cost + 500 yen & 2 hours.
· Please understand that it may be 2 hour system depending on reservation situation and congestion situation.· All you can drink S course
· Fri, Sat, Blessings The S plan all you can drink all-you-can-eat as well.
· Course contents may change due to purchase situation.
All-you-can-drink menu
· * B course *
· [Sour] lemon sour lime sour grapefruit sour orange sour acerola sour Oolong High green tea High jasmine high
· * B course *
- [wine] Almaden (red and white)
· * B course *
· [Soft drinks], Pepsi-Cola, ginger ale, tonic Wo - data - lemon squash orange juice, grapefruit juice, acerola soda Calpis or soda oolong tea, green tea, jasmine tea
· * A course *
· [Beer] Clear Asahi barrels student-Jandi - Gaf Kashisubia Muscat Beer blueberry Beer La France Beer [sangria] Vie Nha Arubari sangria (red and white)
· * A course *
- [high ball] - Nikka high ball Ginger high ball-Cola high ball lemon squash high ball acerola high ball [sake] - exciting
· * A course *
· [Cassis] cassis soda, Cassis Orange Cassis Grape Cassis Oolong cassis tonic [Peach] Peach soda Fuzzy Navel Peach Grape Regepanchi Peach tonic
· * A course *
· [Lychee] - Raichisoda, lychee orange, lychee grape, lychee oolong, lychee tonic [Jin] Jin tonic Jinbakku - Rickey
· * A course *
· [Vodka] vodka tonic Moscow Mule screw driver [Tequila] Tequila tonic Tequila Sunrise
· * A course *
· [Plum] - KoAtsushi plum wine [flavored shochu]-season Kaoru whether or cassis-season Kaoru whether or citron-season Kaoru whether or lychee
· * S course *
· [Beer] Asahi Super Dry, Jandi - Gaf Kashisubia Muscat Beer blueberry Beer La France Beer
· * S course *
· [Liquor] Jack Daniel Jack Daniel's Tennessee Honey
· * S course *
- [high ball] Apple wine high ball Black Nikka rich blend ginger high ball-Cola high ball lemon squash high ball acerola high ball
· * S course *
- [Non-alcoholic] Doraizero vial
Reservation deadline

Coming to the store until the day 16 of the desired date
2018/06/14 update