DETAIL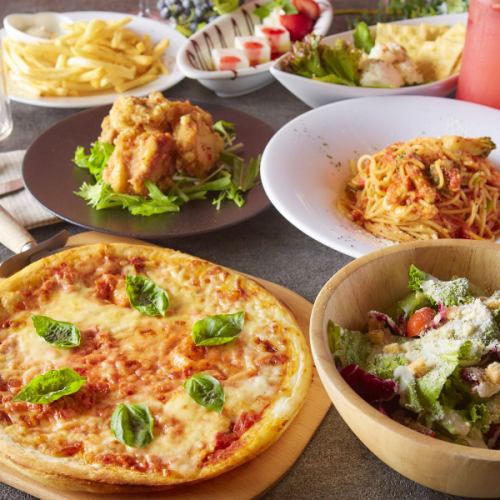 * 6 items 2 hour free all you can drink! OLIVE trial course ♪ "Marone ~ Marrone ~" ⇒ 2480 yen
6items

3

~

100persons

All-you-can-drink available

■ □ ■ FREE DRINK MENU ■ □ ■ Abundant lineup of over 150 types ♪
First-come, first-served basis only! A handy course recommended for those who are using our shop for the first time.You can enjoy authentic Italian who stuck from raw materials.Message with dessert plate Free benefits ◎ ♪ also for drinking party and birthday
Menu
【Secretary Mr. must see! Group benefits ♪】
♪ Dessert Plate with Message Free benefits as well ♪
【1 item】 Creamy potato salad dip
【2 items】 Classical Caesar Salad
【3 items】 flavor potato
【4 items】 Chicken frit
【5 items】 Chef's pasta of the day
■ Cream source system
■ Tomato source system
■ Peperoncino series etc etc
【6 items】 Seasonal Dolce
◎ course of your description ◎
· First-come, first-served basis only
· All-you-can-eat 2 hours system, Lo is 30 minutes ago.
· It will be two-hour system depending on crowds before and after celebrations.
· It will be 2980 yen (excluding tax) per person for money and holiday celebration.
· All you can drink on course B course (A course at + 500 yen / planned for S course at + 1000 yen)
· Please be sure to check the details of group coupons because they are listed on the coupon page.
All-you-can-drink menu
· * B course *
· [Sour] lemon sour lime sour grapefruit sour orange sour acerola sour Oolong High green tea High jasmine high
· * B course *
- [wine] Almaden (red and white)
· * B course *
· [Soft drinks], Pepsi-Cola, ginger ale, tonic Wo - data - lemon squash orange juice, grapefruit juice, acerola soda Calpis or soda oolong tea, green tea, jasmine tea
· * A course *
· [Beer] Clear Asahi barrels student-Jandi - Gaf Kashisubia Muscat Beer blueberry Beer La France Beer [sangria] Vie Nha Arubari sangria (red and white)
· * A course *
- [high ball] - Nikka high ball Ginger high ball-Cola high ball lemon squash high ball acerola high ball [sake] - exciting
· * A course *
· [Cassis] cassis soda, Cassis Orange Cassis Grape Cassis Oolong cassis tonic [Peach] Peach soda Fuzzy Navel Peach Grape Regepanchi Peach tonic
· * A course *
· [Lychee] - Raichisoda, lychee orange, lychee grape, lychee oolong, lychee tonic [Jin] Jin tonic Jinbakku - Rickey
· * A course *
· [Vodka] vodka tonic Moscow Mule screw driver [Tequila] Tequila tonic Tequila Sunrise
· * A course *
· [Plum] - KoAtsushi plum wine [flavored shochu]-season Kaoru whether or cassis-season Kaoru whether or citron-season Kaoru whether or lychee
· * S course *
· [Beer] Asahi Super Dry, Jandi - Gaf Kashisubia Muscat Beer blueberry Beer La France Beer
· * S course *
· [Liquor] Jack Daniel Jack Daniel's Tennessee Honey
· * S course *
- [high ball] Apple wine high ball Black Nikka rich blend ginger high ball-Cola high ball lemon squash high ball acerola high ball
· * S course *
- [Non-alcoholic] Doraizero vial
Reservation deadline

Coming to the store until the day 20 o'clock in the desired date
2018/06/14 update